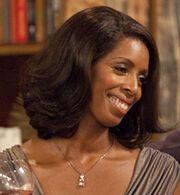 Angela Williams
is one of the main protagonists on
Tyler Perry's For Better or Worse.
She was portrayed by Tasha Smith.
Biography
Edit
She was born and raised in Camden, New Jersey. She has five brothers.
She attended college in Atlanta, Georgia, where she majored in chemistry, and met and dated football player Marcus Williams. She also befriended Patricia, Dianne, Sheila and Leslie. While in college, she had a friend, Nick Bolden, who she told Marcus that he was gay.
After college, Marcus and Angela married. They had a son, M.J. Williams. Marcus went pro and when Angela couldn't find a job in corporate America, she started her own hair cair line, Lady Angie and opened up her own upscale salon, Lady Angie's Salon in downtown Atlanta.
She and Marcus have had a tumultuous marriage, which included infidelity on both parts and Marcus's troublesome baby's mother, Keisha Jones. . Angela is known for her anger issues and her love for Marcus.
Ad blocker interference detected!
Wikia is a free-to-use site that makes money from advertising. We have a modified experience for viewers using ad blockers

Wikia is not accessible if you've made further modifications. Remove the custom ad blocker rule(s) and the page will load as expected.