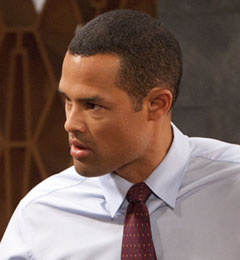 Joseph Jetson
enjoyed a successful career as a professional tennis player before joing
Marcus Williams
as one of the owners of "
C-Sports Now
". He serves as Marcus' right hand man on the anchor desk, as well as in their friendship that they've maintained since college. Joseph has been with
Leslie
for three years. Getting married is not on his agenda; he has seen his share of bad marriages and wants no part of it. Joseph is the naive, dim worker in the "
C-Sports Now
" ownership trio.
Ad blocker interference detected!
Wikia is a free-to-use site that makes money from advertising. We have a modified experience for viewers using ad blockers

Wikia is not accessible if you've made further modifications. Remove the custom ad blocker rule(s) and the page will load as expected.