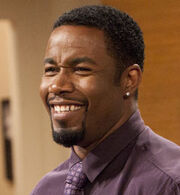 Marcus Williams
is one of the main protagonists on
Tyler Perry's For Better or Worse.
He is portrayed by Michael Jai White.
Biography
Edit
Marcus attended college in Atlanta, Georgia, where he played football and met Angela. He also met Gavin, Terry, Mike, Richard Ellington and Joseph Jetson.
During college, he dated Angela amongst other girls, including Keisha Jones, who eventually became the mother of his daughter, Dominique.
After college, he and Angela married and had a son, Marcus Williams, Jr., who was born six months after Dominique. Marcus went on to play professional football until he injured himself causing an early retirement.
Ad blocker interference detected!
Wikia is a free-to-use site that makes money from advertising. We have a modified experience for viewers using ad blockers

Wikia is not accessible if you've made further modifications. Remove the custom ad blocker rule(s) and the page will load as expected.